Expansion waterstop (earthquake resistant type)
Santac Waterstop
■ Features
Santac Waterstop is a composite waterstop consisting of a vulcanized rubber waterstop and Span Seal water sealant which provides both superior adaptability and water stopping performance.
The vulcanized rubber waterstop features both high tensile strength and elongation.
The rubber Santac Waterstop center valve is an uncut type, which allows for it to be freely modified in order to accommodate displacement in concrete structures without applying excessive force or stress on the waterstop.
The Santac rubber waterstop Span Seal water sealant works as a reactive adhesive both after pouring concrete and when hardening concrete, which gives it superior water stopping performance.
The stress applied as a result of displacement of concrete structures is supported by the Santac rubber waterstop ribs (protrusions) and side valves.
Santac Waterstops have filleted edges and 5φ holes at 1 m intervals to allow for previse positioning of embedded waterstops using binding wire.
■ Applications
Civil engineering applications
Railways/roads
Underground passages, subways, box culverts and bridges
Electric power
Power plants/ducts
Water supply and sewage
Reservoirs, settling tanks, treatment tanks and pump rooms
Agricultural irrigation
Culverts, reservoirs, waterways and siphons
Rivers, harbors, etc.
Estuary weirs, embankments, bank revetments, etc.
Architectural applications
Underground structures
Construction joints between buildings, connection adjustments with existing frames (Sold separately: L type waterstop)
E-620-N
(6×200㎜)E-type 3.2㎏/m
Displacement and water pressure resistance capacity
Water pressure
resistance (MPa)
Minimum wall
thickness (mm)
E-830-N
(8×300㎜)E-type 5.7㎏/m
Displacement and water pressure resistance capacity
Water pressure
resistance (MPa)
Minimum wall
thickness (mm)
E-1630-N
(16×300㎜)E-type 9.1㎏/m
Displacement and water pressure resistance capacity
Water pressure
resistance (MPa)
Minimum wall
thickness (mm)
■ Document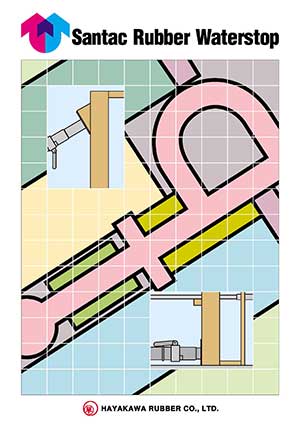 Santac Rubber Waterstop catalog(pdf)